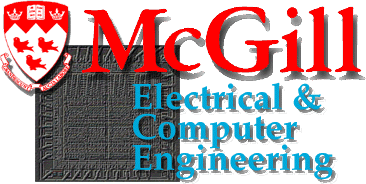 ECSE-421 Embedded Systems
Course Instructor
Cedric Guss (cguss@ece.mcgill.ca)
Announcements
March 23, 2004: MCU boards available for pickup. Please contact Usman, for an appointment to get the board as soon as possible.
Teaching Assistants
Ahmed Usman Khalid (akhalid@macs.ece.mcgill.ca)
Salman Arif (sarif@ece.mcgill.ca)
Project
Note: The boards used in the course do not have the FPGA installed so parts of the documentation are invalid.
Lectures
Assignments
Embedded Systems and Real-time Systems links